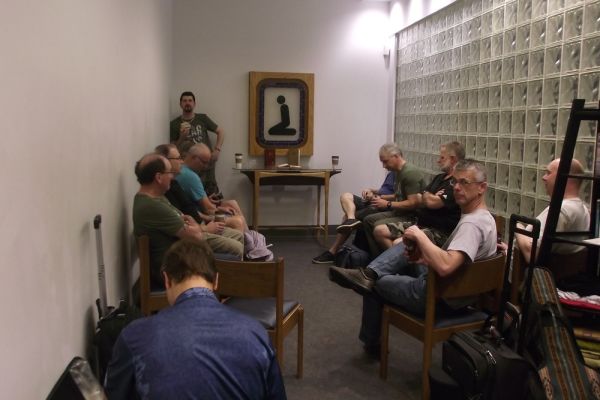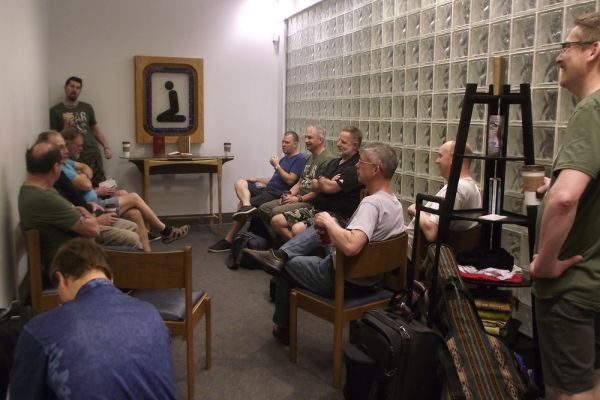 After a quick breakfast we headed to the airport, security/check in was pain free and quick. Off we went to the airport chapel for a team meeting. During introductions God brought Patrick Into our midst. After sharing our mission as a team he felt called to share his heart. He asked us to pray for his friend Rick, at the age of seventy two his wife left him. He shared thatt he had hit rock bottom. Our brother Andrew felt lead to pray for Rick, Pat's friend. Ian had Andrew pray. After Andrew prayed the room was filled with emotions and tears.
Pat took a picture of our group and indicated that he would share with his friend Rick the men that prayed for him. We definitely knew as team that God was at work and brought this man to us!
After having a safe flight upon landing all the locals began clapping and cheering! They must have know something that we didn't.
When we arrived at our accommodations we met Mario the executive director of the mission and local pastor. He then shared his testimony and journey of how God brought him to where he is today. His story moved us all and display God's work here in the Dominican.
We look forward to tomorrow and the rest of our trip to see what God has in store for us!
This morning we slowly woke up to the sounds of birds, dogs, cats and plenty of cars and motorcycles. We slowly made our way...
Read More
Today was our first full day on the jobsite. We were reminded how blessed we are and even our kids with what they have...
Read More
On day two of work on the worksite we finally get to meet the kids at the school.
Read More
Read More
This morning we all have a sense of anticipation as we look forward to worship at one of the local churches. We will be...
Read More
I believe that if you were to ask the team members what part off our day that God seems to do the most in...
Read More
Our second day working at the school with the kids. So far we have enjoyed working and playing with the kid. They have enjoyed...
Read More
Read More
Read More
Today was a day of arrival to our destination. We came from different parts of Canada. Some from Newfoundland, Nova Scotia, Ontario, Manitoba and...
Read More
Where has the time gone! We are now on our final day on the work site. We have had plenty of opportunities to interact...
Read More