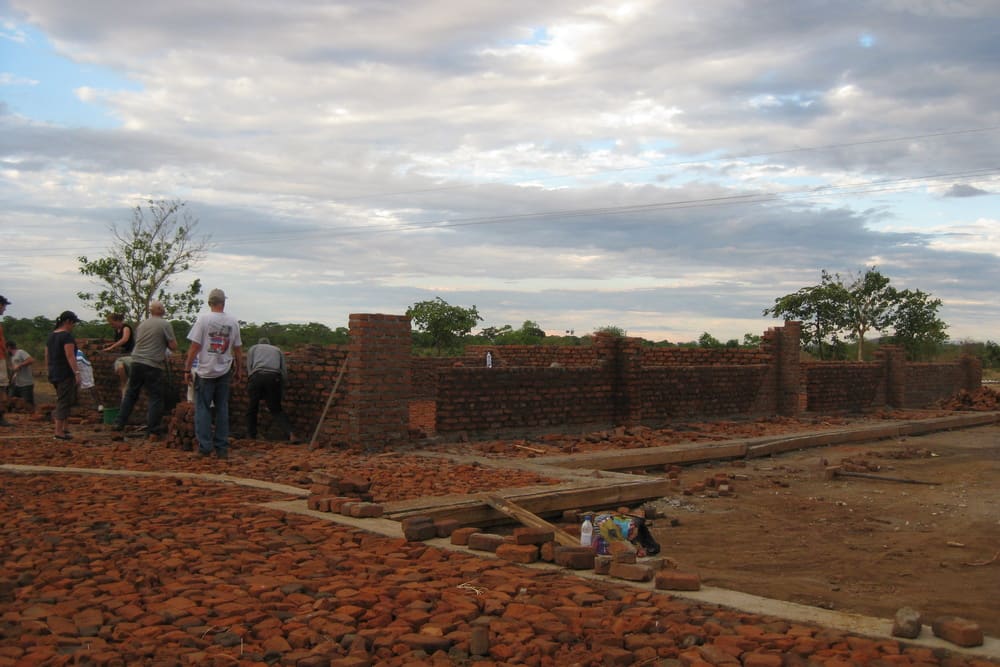 Had a good breakfast (as per usual!) to start our day, our bus driver (Mr. George), was late (as per usual!!), then we had no fuel! No fuel was available at any filling station, so we had to drive outside of town and meet another van. They pulled the drain plug on the other van and drained 3 and half metal bowls (approx. 1 gallon per bowl)of gas out and poured them into ours. We were shocked by the bowl, but you use what you have available at the time. It seemed to be a very natural occurence.
We stopped at Mwase day school on the way to the work site and talked to 2 of the teachers for bit. They informed us that at the k - 9 they had 19 teachers and just under 900 students. Only one water pump for the school and teacher residence and some community use. There are some badly needed upgrades (roof, teacher housing), along with low supplies (books especially). The students are writing finals for this session, and were writing their exams at the time of our visit. Will stop by again tomorrow to observe classes and discuss more about education...a real push for the girls to attend school especially beyond grade 9 is a major concern here and is a growing trend to help empower the females of Zambia.
Had another productive day at the work site...had a great time with the work crews and locals working side by side and talking and laughing together. The lines formed to pass bricks makes it an easier task to accomplish and much quicker too!! Thinking we are actually accomplishing a lot more than what was expected!!
Today's lunch and diner consisted of our ceremonial gifts of the chickens(lunch) and goat(supper), along with the traditional rape and chima(lunch), green beans and rice(supper). This has been very typical of our meals, sometimes a pasta instead of chima, and hardboiled eggs. Breakfast is usually eggs and bread with peanut butter and a jungle oats porridge which is really good.
Had a good bible study/devotional (Ryan has been leading us in one every night), then had a great discussion with Philemon with our insights and observations regarding this trip so far, and he gave his observations regarding us...was a great exchange and we are all gaining in so many ways.
Wow! Cannot believe how quick this is coming up! In eleven more days we will be embarking on a lifechanging trip... We are...
Read More
To start we are very happy to be in Zambia after traveling for more than 60 hours, across 3 continents, 4 countries and 10...
Read More
Day 2: This morning we visited the Community Markets for Conservation, CAMOCO. A business here in Lundazi that was started in an effort...
Read More
This morning we had the opportunity to partake in the english church service here at CCAP. The Zambian service has many similarities with church...
Read More
Day 4: Monday Nov.25 What we goat done today.... The day started off normal for being in Lundazi. We got started early,...
Read More
Day 5 (Nov 26): Another Brick in the Wall We need more education. Today we were able to work at the building...
Read More
Was another busy day with a couple activities other than work. The day started off with heading out to the village of Mwase where...
Read More
Well, day nine began at a gas station where we purchased 4 liters of gas, and a trip to the home depot (well....Zambia's version...
Read More
Today started out like many of the others this week although we left for work a bit later than normal. We got to the...
Read More
Today was Safari day!! We left Lundazi at 7:30 am after saying goodbye to the people there: the kitchen staff, Dorothy and Christabel, and...
Read More
Dec 1 2013 Blog Had a restful Sunday today...we went to the English Service once again at CCAP at 8:30 and stayed for...
Read More