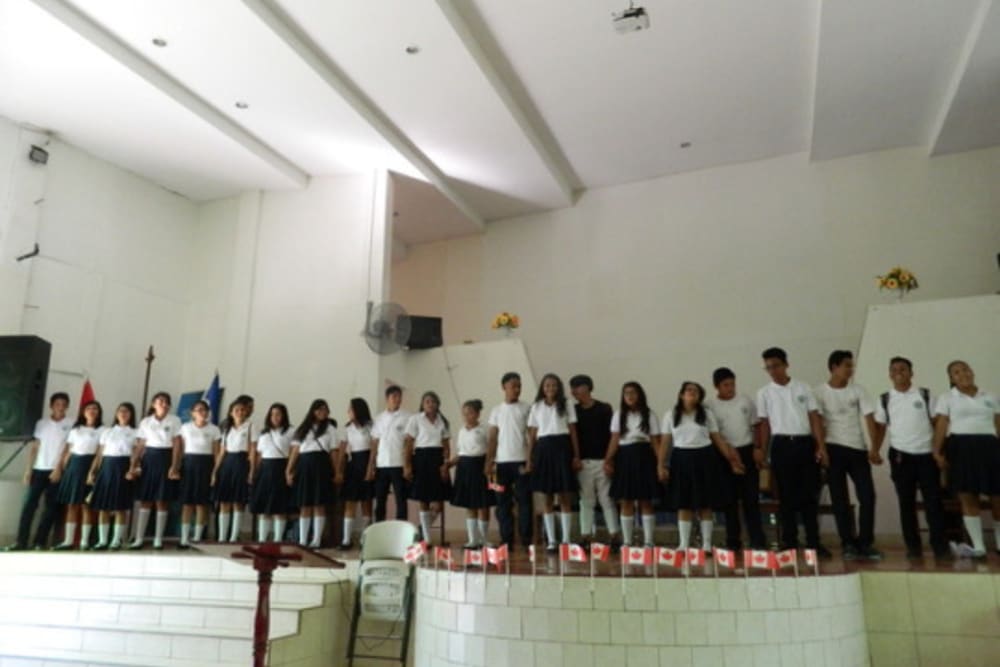 It is hard to believe how quickly this day came! We were at the place where we were finally feeling comfortable with our new friends … like we were getting to know each other on a deeper level. We talked together even with the language barrier, laughed together, played together, and truly desired to be together. And suddenly … it was the day where we would have to say, "Goodbye."
We started our morning with devotions, led by Gateway, where we discussed encouraging and spurring each other on. Then we took some time to tell each other what we were thankful for in each of the groups and our time spent together. It was an uplifting and affirming way to begin the day.
We were divided into 5 groups and had the privilege of traveling to various students' homes from the grade 11 class. In some situations, the homes were empty, as the parents were off working. And in other situations, we were able to meet their mother, parents, or even grandparents, and hear their stories and learn about their lives. The homes all varied in the size of the structure as well as the number of people dwelling there, just the same as at home. However, all were so proud to show us where they lived and give us a small snapshot of their lives. We were humbled by their openness, their deep faith that they so willingly shared, and the lack of desire for material things in order to find happiness or fulfilment.
After lunch we enjoyed a "Talent Show" or a time of sharing with each other in the church sanctuary. Some of their classes sang songs in English and shared skits. Our team sang our song "Yo Tengo Gozo en mi Corazon" and performed our skit based on our team theme of "Love Needs No Translation." Lauren and Oscar also sang a beautiful song together. It was a wonderful time of sharing and celebrating together. The program ended with the teachers and students of Bautista presenting each of us with a gift, a locally made key hooks or wall plaques, colourful and representative of Nicaragua.
We ended the day at the school by exchanging T-Shirts with each other and giving our Canadian gifts to their students. Many team pictures, group pictures and selfies were taken as we struggled to say "Goodbye" to one another. And suddenly … we were off!
We went to the market for a brief time of shopping and then were treated to a restaurant where we had delicious El Salvadoran pupusas for supper. We were joined by Pablo and Elsa Gonzalez; Elsa was the Principal Pablo of our former partner school (she now teaches at NCA) and Pablo works for ACECEN. We were able to present Pablo with a $750 US cheque for school supplies for students in the ACECEN schools, all money raised by the Gateway community!
We ended the day with our evening time of devotions, sharing and reflection. Tonight's theme was one of gratefulness for the days we were able to spend with our friends at Bautista Libertad.
Read More
Today was a crazy day but I still had a great time. We started off early, I woke up at 5:30 a.m. and my...
Read More
Read More
Our day started by watching a blacksmith presentation at the trade school on the grounds of the Nehemiah Centre. We watched a demonstration of...
Read More
Read More
Read More
My highlight of the day was definitely leading the crafts for the classes, especially the older kids. I was starting to get frustrated when...
Read More
My day today was a "wow!" day. We got a real glimpse into how much work the grade 11s here put into our visit...
Read More
Read More
We were tired this morning when we woke up … not because we weren't excited about what was ahead of us today, but...
Read More
Tonight we are filled with gratitude! We are tired … but we are overwhelmed with all that we have to be grateful...
Read More
To see full blog posts and more photos and videos, check here: https://gcshands2017.tumblr.com/
Read More
Please Note: We have a secondary blog set up now ... the posts are the same as they are here on the EduDeo...
Read More
Please Note: We have a secondary blog set up now ... the posts are the same as they are here on the EduDeo...
Read More
Read More
It has already been three days since we have have landed in Nicaragua, and its has been an amazing yet eye-opening journey. The...
Read More
Today was our first work day at El Jordan; a small, rural school at Monte Fresco that recently had a new classroom added to...
Read More
The day is finally here; the day we have been waiting for! Today is the day we get to meet the students...
Read More
Today was such a fun day! We had the opportunity as a team to experience a cultural day together - where we could...
Read More