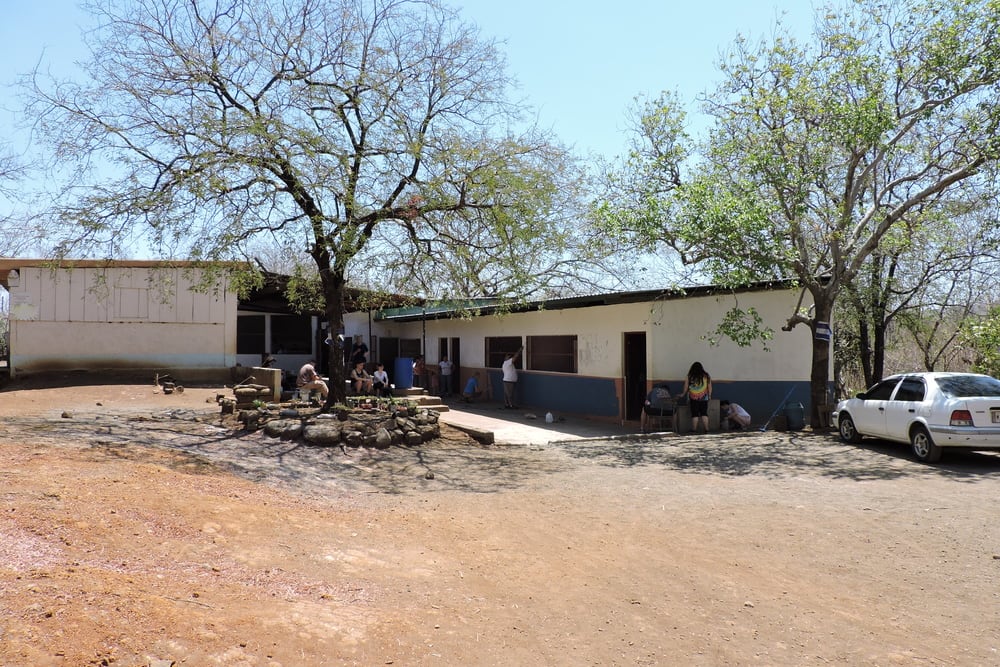 Today was our first work day at El Jordan; a small, rural school at Monte Fresco that recently had a new classroom added to its little building. Our job was to paint the inside of the new classroom, as well as to paint a new coat of colour on the outside of the front of the school.
Of course, it was very hot while we worked! But the team did an amazing job … working consistently, helping where needed, singing and encouraging each other while they worked, all while having a positive and upbeat attitude!
For a break in the afternoon, Blanca (the Principle) took us for a walking tour through part of their village. We were sobered by the state of some of the houses in the village, and reminded of how much we have materialistically back home. Blanca took us to her mother's home - the same house her mother has lived in for 60 years. Her mother was so welcoming and excited to talk to us and to share her home with us. Other homes visited included Blanca's sister's home as well as Blanca's own home. The value of family and relationships is evident time and again in the people that we are introduced to here in Nicaragua. Though it may appear that they have very little … it is evident that they truly have so much!
An additional diversion from our work was the opportunity for each of us to enjoy a ride in a mototaxi. The driver was a previous employee of EduDeo and his wife is a teacher at El Jordan school. The rides allowed us to see more of the local area while experiencing a local mode of transportation firsthand. It was indeed a highlight for all of us!
Today we moved into the Nehemiah Center, where we will stay for the remainder of our time. Our surroundings here are beautiful and serene. We immediately felt welcomed and at home here - thankful to be able to stay in such a beautiful place! After supper many members of our team made contact home through FaceTime - it was so fun to hear some of the conversations as the students shared some of what they have been seeing and experiencing here already. Our evening devotions were led by Darian and Lauren followed by a powerful time of reflection and journaling. Finally … our special and highly-anticipated mail time! The evening ended with lively card games and time spent visiting together! We have already experienced SO much in the few days that we have been together. What full and wonderful days!
Read More
Read More
Read More
Our day started by watching a blacksmith presentation at the trade school on the grounds of the Nehemiah Centre. We watched a demonstration of...
Read More
It is hard to believe how quickly this day came! We were at the place where we were finally feeling comfortable with our new...
Read More
Read More
Read More
My highlight of the day was definitely leading the crafts for the classes, especially the older kids. I was starting to get frustrated when...
Read More
My day today was a "wow!" day. We got a real glimpse into how much work the grade 11s here put into our visit...
Read More
Today was a crazy day but I still had a great time. We started off early, I woke up at 5:30 a.m. and my...
Read More
Tonight we are filled with gratitude! We are tired … but we are overwhelmed with all that we have to be grateful...
Read More
We were tired this morning when we woke up … not because we weren't excited about what was ahead of us today, but...
Read More
To see full blog posts and more photos and videos, check here: https://gcshands2017.tumblr.com/
Read More
Please Note: We have a secondary blog set up now ... the posts are the same as they are here on the EduDeo...
Read More
Please Note: We have a secondary blog set up now ... the posts are the same as they are here on the EduDeo...
Read More
Read More
It has already been three days since we have have landed in Nicaragua, and its has been an amazing yet eye-opening journey. The...
Read More
The day is finally here; the day we have been waiting for! Today is the day we get to meet the students...
Read More
Today was such a fun day! We had the opportunity as a team to experience a cultural day together - where we could...
Read More