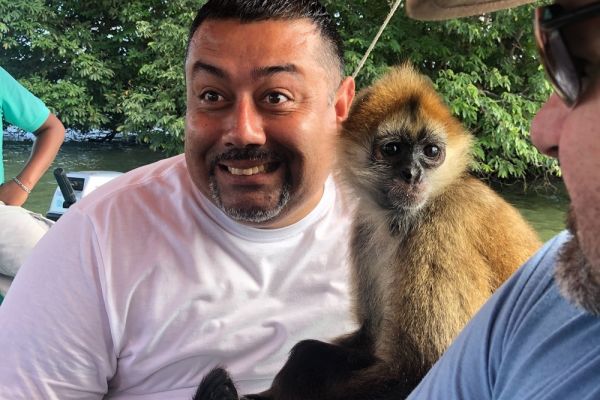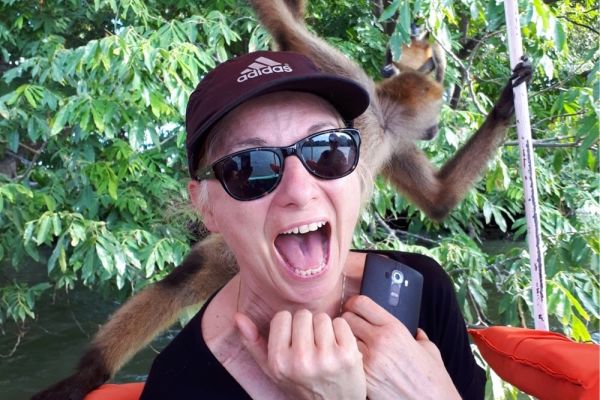 Although we have just recently arrived, the fact that today was a Saturday meant that our work site was not accessible. Today we had the opportunity see God's hand in different parts of the country of Nicaragua! We saw him in the creativity of a potter, in the majestic views from the tops of the trees, in people both rich and poor, and in the amazing sight and smell of an active volcano.
There has been much unrest in Nicaragua over the last number of months, but we were blessed with safe travels as we explored the beauty of this country. It was beautiful to hear from a potter how he was able to create beautiful pots from the natural resources available. Even his paints were made from the natural rocks found in this country. He inspired us as he showed us how he used recycled materials as tools to create his works of art.
Nicaragua is a country that is full of God's beautiful creation! One amazing creature we met today was a little monkey named Lucy. This little friend joined us for a short visit. Some people in our group were a little more excited about this experience than others.
Despite the fact that there is much brokenness in Nicaragua, we have also seen God's hand in the beautiful creation and love from the people we are meeting. Please know that we really appreciate your prayers as we continue to enjoy bonding as a team here in Nicaragua. Please pray that God will continue to work in our hearts and give us an opportunity to be a part of the work that he is doing here.
The ClearView HANDS team will be working at Colegio Cristiano Nueva Vida (New Life Christian School), in Ciudad Sandino, Managua. to build two...
Read More
The Clearview Hands Team has arrived safely in Nicaragua! We met this morning in the Clearview parking lot, huddling in the freshly fallen...
Read More
Signing off.... Derek
Read More
Read More
Read More
Read More
Read More
Knowing them has changed us and enriched our lives - thank...
Read More
Yesterday was the last day at our work site. Although the project is far from finished we were privileged to be part of preparing...
Read More
This was an Edu-Deo mission trip. Edu-Deo is committed to seeing communities transformed by the gospel of Jesus Christ and doing their part in...
Read More
Read More