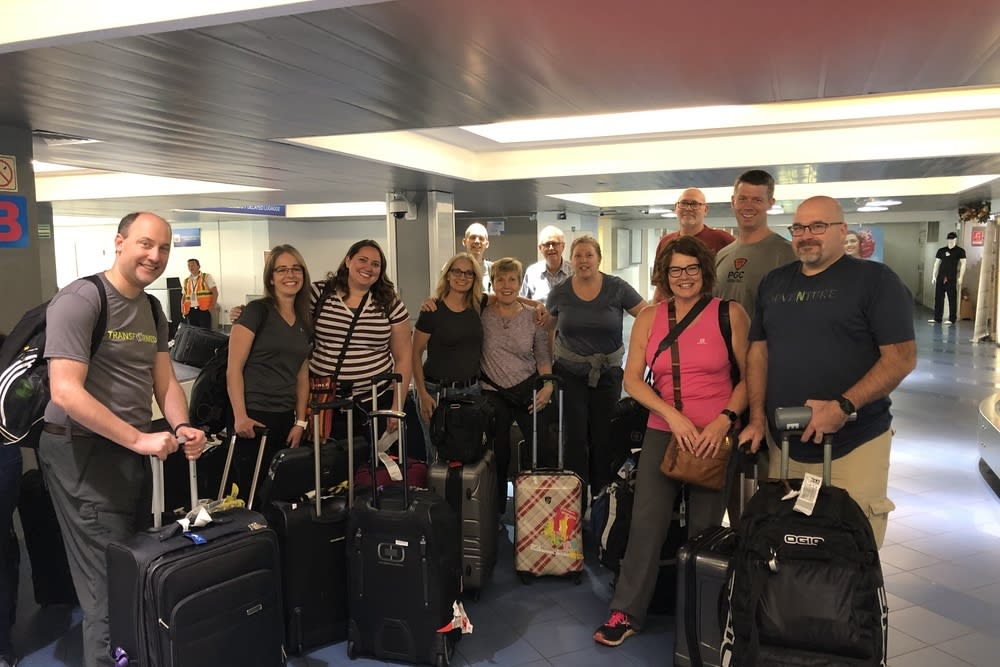 The Clearview Hands Team has arrived safely in Nicaragua!
We met this morning in the Clearview parking lot, huddling in the freshly fallen snow, some of us still bundled into coats that we threw back into vehicles when we got out at the airport, others dressed in shorts in anticipation of the weather we were traveling towards. And by dinner, we were glorying in the 27 degree weather and fresh breeze blowing around the Nehemiah Centre.
Our travel went well, although of course there were bumps along the way - some metaphorical, some quite literal as we made our way through very tubulent sections on both flights. Figurative bumps included someone not being able to get a boarding pass for the second flight (that was Carl), waiting to have our plane de-iced before takeoff (and subsequently leaving late), or experiencing some nausea and nerves during the turbulence (those members of our team will remain unnamed!) But we can't complain about a day of travel where we all arrived safely and on time, and all of our luggage arrived with us, AND we've already enjoyed each other's company, told lots of stories, laughed a lot, and had great team devotions.
Our team verse for this trip comes from 1 Peter 1:22, "Love each other deeply, from the heart." Pray for us as we begin work tomorrow, that we would show love to the other members of our team, to the Nicaraguans we are working with, and to anyone we meet along the way. We're excited to learn and experience and work!
The ClearView HANDS team will be working at Colegio Cristiano Nueva Vida (New Life Christian School), in Ciudad Sandino, Managua. to build two...
Read More
Signing off.... Derek
Read More
Read More
Read More
Read More
Read More
Read More
Knowing them has changed us and enriched our lives - thank...
Read More
Yesterday was the last day at our work site. Although the project is far from finished we were privileged to be part of preparing...
Read More
This was an Edu-Deo mission trip. Edu-Deo is committed to seeing communities transformed by the gospel of Jesus Christ and doing their part in...
Read More
Read More