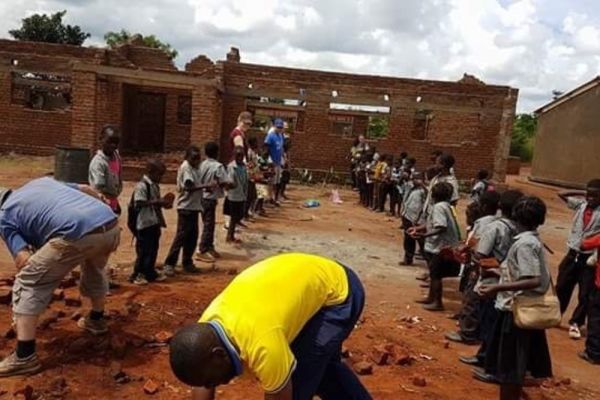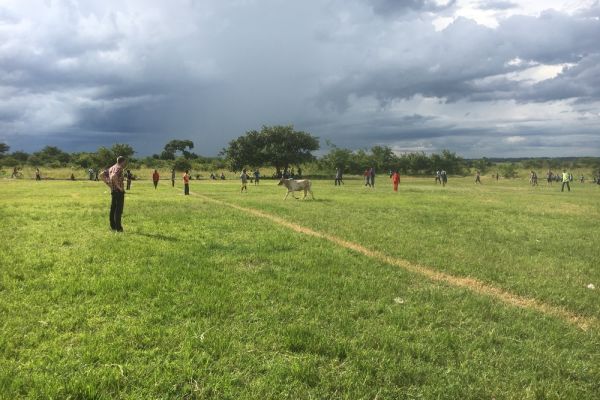 We decided to give today the theme of "FUN". It was a day of work, but also a day to interact and encourage the locals. We started off early at Ikwele school with breakfast to get ready for the day. Our first task was move a huge pile of bricks from the front to the back of the school. Many ladies from the village came out so we could form a brick passing line around the school - some even had there babies tied to their backs as they worked. We appreciated the teamwork and taught the kids to chant "Jerry faster! Jerry faster! Jerry faster!". He responded well to the encouragement. In the meantime, a crew continued to mix cement, pour ring beam, and lay brick.
Making sure we balanced work and play, we spent some time doing games with the kids. Large group games, singing, and teaching them the chicken dance! We love seeing their smiles!
We then finished our work and did our stretches in preparation for the big Canada vs Zambia soccer game. Our team chant was "H-O-P-E Believe in the Impossible".
All things considered, we did better than any of us anticipated with a close 1-0 score for the Zambians. Needless to say the Canadians had less than favourable playing conditions with chickens flocking, cows grazing, and a massive disparity in talent. We appreciated the support from the kid spectators as they chanted "Canada!" for encouragement.
It started pouring rain near 6pm and has been nonstop since then. We are thankful for cool weather, but pray that working conditions will be good tomorrow.
Read More
First day at Ikwele primary school. We started with a short 45 minute bus ride and our breakfast was served at the school. After...
Read More
Today was our first full day of work. This morning we got to meet the chief of the chiefdom the school is in. He...
Read More
Today was a day for visiting and driving. Hit the road at seven sharp and had a quick breakfast at the job site. Dorthy...
Read More
Saturday Feb. 24 This morning we awoke to a bit of a drizzle, no more of the torrential downpour of the night before....
Read More
Sunday Feb.25 We have been in Africa for a week! Zambia has been more than what we expected, especially for us first timers....
Read More
Today was back to work again after a day of worship and resting. We started the day with breakfast at the site and then...
Read More
Read More
This morning we had the privilege to visit another CCAP school, one in Kchele, on our way to Ikwele. It was encouraging to see...
Read More
Today was a day that we were looking forward to with some anticipation. We were at the South Lilongwe National Park! We started our...
Read More
Well Hope 5 Hands Team is home safe. Thanks for your prayers and support. God was good to us! We had safety on...
Read More