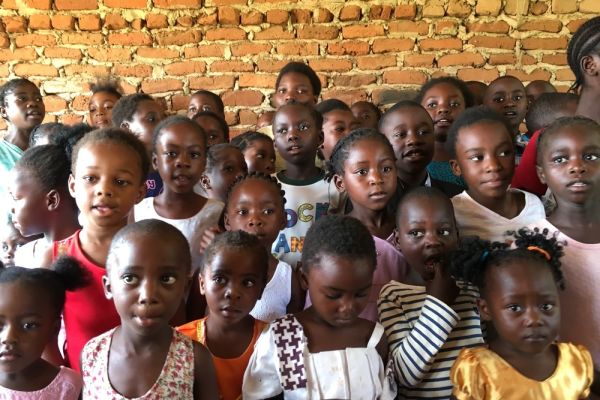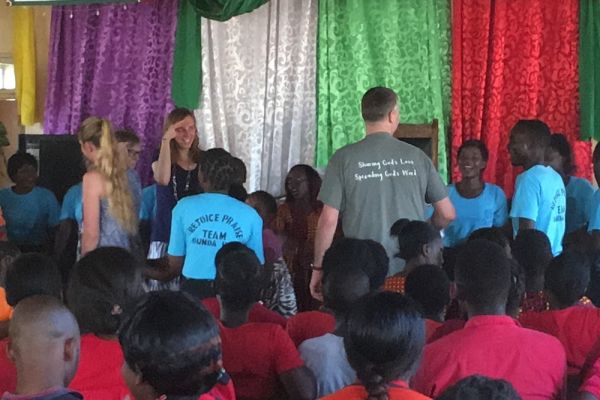 Today was our first full day at our final destination, Lundazi. And it was the perfect day of the week for it! Sunday! A day to rest and recover from our extensive travel days.
Most of us started off the morning pretty early as we were all adjusting to new sounds and surrounding. A new one for a lot of us was a 5am Muslim Call to Prayer; a long low drone of a man singing settling on the city. At that point many gave up on trying to sleep and we got up, prepared for church, and visited before heading to our first service.
Church service #1 was just a few steps away from the CCAP guesthouse we are staying. As always, they begin with an English service which is significantly shorter (which generally works for us CRC'ers, and the fact that it was 33 degrees at 8am made it an added bonus) than the second Tumbuka service. The Granum CRC "choir" made its world tour appearance and blew the roof off the place, and the pastor finished the service with a message about Gods perfect plan and complete control in our lives.
Immediately after that, we headed to Collins' (our CCAP host for the last few years) home church a 10minute drive away. The singing was awesome - we were blessed by several choirs and I think we all agree that our favourite was the children. After they sang they all introduced themselves and their personalities shone through!!
Following a busy morning, we headed back to the guesthouse for lunch. We were able to hang around the common area for awhile, relax, play cards, visit (and maybe find out a few too personal stories about each other. Re: blog title, Sunday Shuffle. Ask Jerry).
Again, we headed the few steps to the church as several community choirs were having a concert. We loved the energy of place, and some were even adventurous enough to join in on the dancing (ask Margriet and Katrina).
We narrowly avoided the annual Zambia vs Canada soccer match, but we hear rumours of a rematch later in the week.
Thankful, for the safe arrival of Paul. Who started, the day early at 4 with Rev. Nehimia taking the charter bus. The drivers really good, but definitely are "pedal to the metal".
As always we finished the day with a full course meal and devotion. Full of food and full of Gods love.
We are blessed to be here. The Lord has brought us safety so far. We are finally ready to visit our work site, Chasefu, for the first time tomorrow. Please continue to pray for us as we become more involved in our project and interacting with the local people.
We think of you all often!
At dinner tonight Margriet was joyous to discover that we had in fact not reached our final destination but indeed have a...
Read More
Today our day started even before the sun was even close to coming up-05:30 to be exact! We were a bit blurry eyed; but...
Read More
The long and winding road to Chasefu was filled with potholes and washouts but we scarcely noticed because there were so many sights to...
Read More
We woke up this morning to the obnoxious squeaking of everyone's doors. It's something we've all been trying to learn to tolerate. Once again...
Read More
Greetings from Zambia! Work on 'the wall' is progressing quite well with lots of enthusiastic workers and spectators. But I don't think we will...
Read More
We knew today's drive would be interesting after last nights heavy downpour. We weren't disappointed. New streams had been cut out along the road...
Read More
Community, a place we are called to shine like a star in the universe! Being of servant character, sharing in each others joy's and...
Read More
Our morning drive started out damp and wet; but we made it safe and sound to the school with some creative and rather "bumpy"...
Read More
Cue the U2 mixtape, because what a beautiful day it was! We were able to attend Moffat's church this morning and it was wonderful...
Read More
Well here we are at the end of the last full day of work at Chasefu. The day started bright and sunny with a...
Read More
So the day started with the rock and roll drive to Chasefu . We were greeted by large groups of excited children. After extended...
Read More
This mornings' devotion talked about stepping out in faith. Each day will have its challenges and obstacles, but we need to remember that God...
Read More
After a good nights sleep, in very comfortable beds, and warm showers. We started the day with breakfast at Marula Lodge at 5:30. There...
Read More