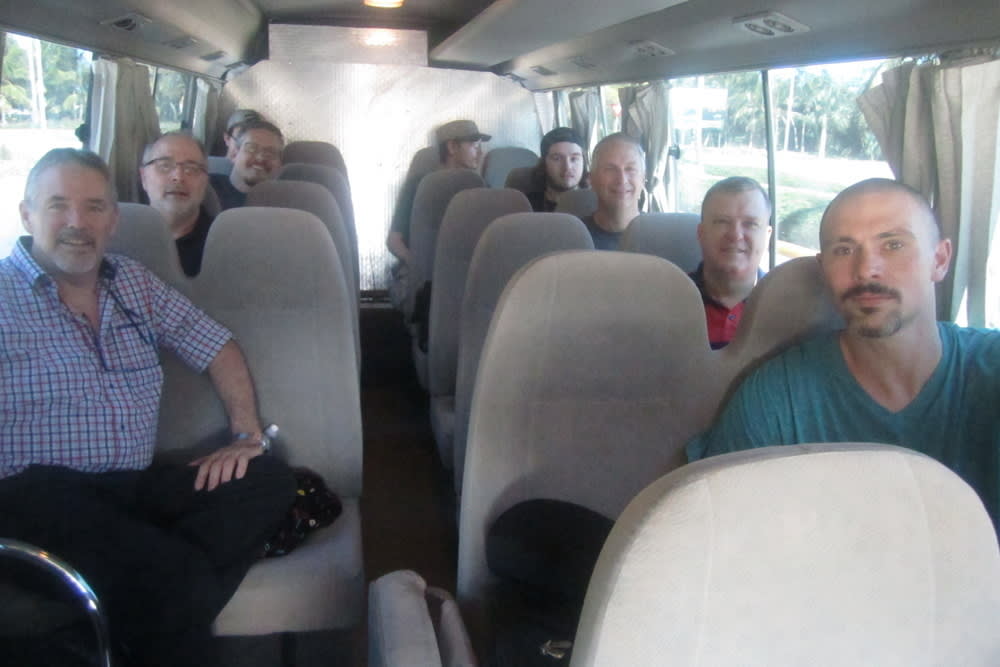 Well, Hello from the Dominican Republic. After a flight that seemed like the temperature inside the cabin was extra cold today, we have arrived to the hot, humid climate of the carribean. Our host met us at the airport and has been extremely gracious and helpful. We shared some laughs with him on our bus ride. As we travelled from the airport to our accomadations, there were definitly moments of awe as we witnessed the hugh contrast of lifestyle that is the DR. There isn't a lot to say as of yet, except we are all safe comfortable, and fed both physically and spiritually. We have already witnessed God's hand at work when we realized that many flights into and out of Toronto were cancelled yesterday due to weather but all of ours were on time. All praise to Him for safety on our trip so far. We begin work in the morning and you can feel the anticipation in the air. Not just to get to work but to see what God has in store.
I've included a photo from our bus ride today. The only one that isn't pictured is John as he was at the very front of the bus.
Thanks again for your continued prayer and support!
Hello to all the PKC DR 2018 Team supporters. We really appreciate you prayer and support as we get ready to go to the...
Read More
Today's photo comes from Edmonton Internation Airport. It's a photo of my plane, or lack there of. You might say I'm a little early....only...
Read More
After receiving a text today saying that it was -22 degrees celsius in Alberta and even before the sun rose this morning it was...
Read More
Another hot day of work has arrived. Today has once again started with a quick breakfast followed by another bus ride to the school....
Read More
Sunday a day of worship. Our day started with a God inspired devotional by Ian, several of our team members where deeply moved....
Read More
Well, after a day off work I think we would all admit, getting back into work mode wasn't an easy task, but after a...
Read More
Today is yet another hot day. You can definitely see how everyone is starting to slow down. But we are strong in Spirit and...
Read More
Read More
It is a bitter sweet moment as we sit here in the airport. We are all happy to go home to Canada but sad...
Read More