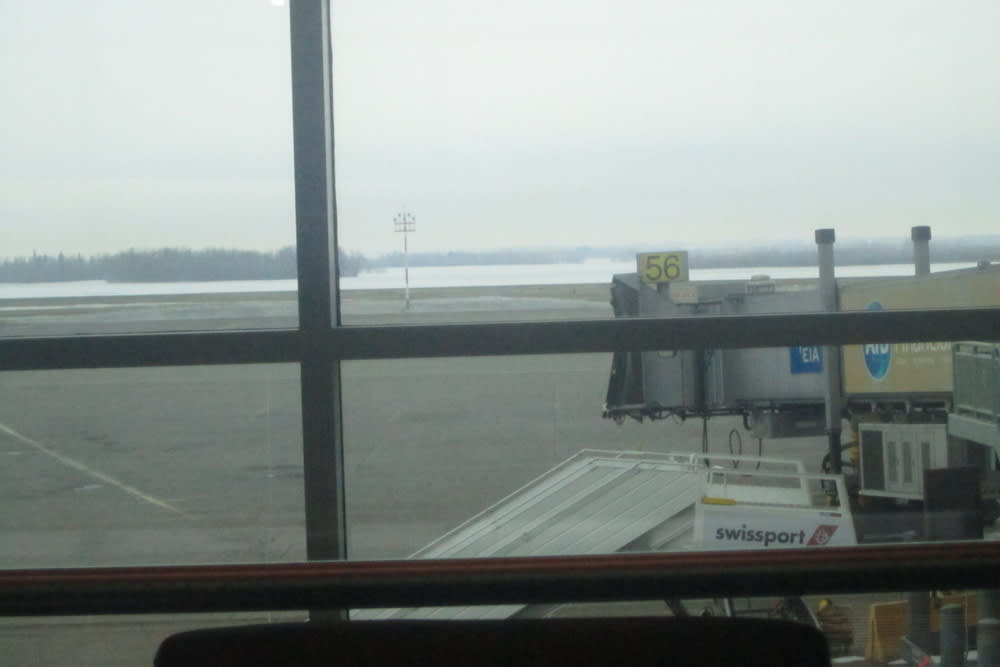 Today's photo comes from Edmonton Internation Airport. It's a photo of my plane, or lack there of. You might say I'm a little early....only two hours early. Might be a sign of how excited I am to go on this trip. Excited to leave the cold, (-13 this morning), excited to go to the DR, excited to meet some new people, but most of all excited to do the Lord's Work. I apologize to all who are reading this blog as I keep refering to myself but I haven't even met any of the other guys yet, I'm sure this blog will become more of a team blog and less of a me blog as the week goes on.
As I left my family behind this morning I want to encourage everyone praying out there to remember our families in prayer. I'm sure everyone's wives, children, moms and dads are just as concerned as mine are. I could see the concern in there eyes as I left them with a word of encouragement, "Leave it to God....when has He ever let us down before?" I know God is with us on this trip.
One final thought, Zepheniah 3:12 reminded me this morning of how important it is to remain meek and humble. I believe God is reminding us that as we venture into this new culture, to embrace it and learn from it. Don't go into it with a "western culture attitude," which is full of pride, but remain humble. Humbled by the fact that He would even choose us to do his work. Lord I pray that somehow through this experience You will teach us true meekness and humilty.
Hello to all the PKC DR 2018 Team supporters. We really appreciate you prayer and support as we get ready to go to the...
Read More
Well, Hello from the Dominican Republic. After a flight that seemed like the temperature inside the cabin was extra cold today, we have arrived...
Read More
After receiving a text today saying that it was -22 degrees celsius in Alberta and even before the sun rose this morning it was...
Read More
Another hot day of work has arrived. Today has once again started with a quick breakfast followed by another bus ride to the school....
Read More
Sunday a day of worship. Our day started with a God inspired devotional by Ian, several of our team members where deeply moved....
Read More
Well, after a day off work I think we would all admit, getting back into work mode wasn't an easy task, but after a...
Read More
Today is yet another hot day. You can definitely see how everyone is starting to slow down. But we are strong in Spirit and...
Read More
Read More
It is a bitter sweet moment as we sit here in the airport. We are all happy to go home to Canada but sad...
Read More