Bold commitments for 2014!
By the end of this New Years Eve day another year will have flown on by. It is unbelievable how fast time seems to go. Only more reason to take time to pause, look back and reflect on all that has taken place throughout the year and to offer thanks to our God and Saviour for His constant goodness and grace.


We would also like to take the time to share how blessed EduDeo Ministries has been through your continued support. Whether you joined us by going on a HANDS trip, taking on the challenge of running the Road2Hope, attending the beautiful and inspiring Getty concert, volunteering for Walking Together, supporting financially or through prayer, or just simply spreading the news of the great things that are happening worldwide through EduDeo and our partners...we THANK YOU for your support!

Take a moment to watch this video – a message of sincere thankfulness for the difference you are making, brought to you by our Executive Director, Hank deJong.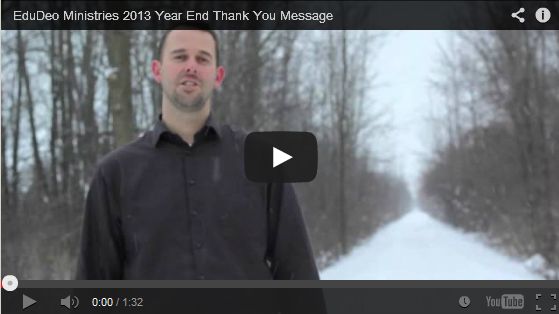 There is still time to make a donation for a 2013 tax receipt. As the video mentions, we've made bold commitments for 2014 and we're counting on your support. Your donation today will get us off to a great start in 2014.

We wish you a blessed 2014. Thank you again for your support!

May the God of peace,
who through the blood of the eternal covenant
brought back from the dead our Lord Jesus,
that great Shepherd of the sheep,
equip you with everything good for doing his will,
and may he work in us what is pleasing to him,
through Jesus Christ, to whom be glory for ever and ever.
Amen.

Hebrews 13:20-21 (NIV)