Remember your childhood dreams?

Renia Kubotobwa from Lundazi, Zambia had a dream of becoming a nurse. She was clearly a strong leader in high school, a hard worker and considerate of others and growing in her faith. It may seem she had it all together, but this was not always the case.
Her father, the primary provider for a family of 7, died when she was only 14 years old. Then at 16, tragedy again struck with the passing of her mother. She was now and orphan and unable to provide for her siblings, let alone being able to afford the $250 tuition fee to attend high school.

Through prayer, Renia was led to approach the Church of Central Africa Presbyterian (CCAP) Education Department that oversees 25 Christian schools in Zambia, including Renia's high school, Kabinda Christian School. After an interview with the principal, Renia was blessed to receive tuition sponsorship support, opening up doors to her dream!

Sadly, many Zambian girls are forced to take a different road, one far from any dream. Without sponsorship, many girls believe they have no other option then to sell themselves to raise the funds needed to pay their fees.
"For an uneducated girl, there are very few opportunities. Many are married off as young as 13. Some sell what they can in the market place or at the side of the road, while others sell themselves to the truckers. Prostitution is a major problem. One in six Zambians is HIV-positive. Yet the figures show that almost all these social problems can be turned round by improving the rates of female education." (Ashley Morris, BBC News)
In Zambia, basic education is paid for by the government, but only up to Grade 7, or about 13 years old. After that, parents, or girls like Renia, must pay for all school fees, uniforms and books themselves if there is no opportunity for sponsorship. It is not surprising that this is also when many children tend to drop out of school.

In Lundazi, Zambia, there are few high schools and large distances between each. This forces girls to find boarding close to schools, which also leads to their being taken advantage of in a wide range of situations. Women are traditionally seen as taking care of the house. Girls, more so than boys, are asked to do more work for their hosts: preparing food, cleaning, and going to the market.

This is a very real reality and disadvantage to a girl child's high school education as they are more unable then boys to find the time to focus on their studies. According to UNESCO's 2012 World Atlas of Gender Equality in Education (PDF), "boys in Zambia outperform girls in both reading and maths, with girls' reading achievement having declined significantly between 2000 and 2007". Illiteracy is 15% higher amongst girls than boys aged 15-24 despite girls having a higher attendance rate than boys at primary level.

Female Education
Of the 110 million children that don't attend school worldwide, 2 out of 3 are girls.
There are 42 million fewer girls than boys in primary school education.
In sub-Saharan Africa, 24 million girls cannot afford to go to school.
If you educate a girl, she will earn up to 25% more and reinvest 90% in her family.
Sources: UN, World bank, UNESCO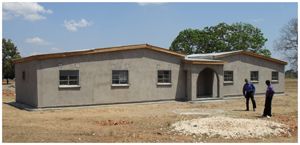 However, CCAP is working hard to combat this abuse of girls. They have seen success in building and providing dormitories for girls at a number of their high schools. However, more is still needed and the conditions are very tight.

This Christmas it is our prayer and hope that you will look a little deeper and see the potential that every child has when given the opportunity to receive a quality, Christ-centred education.

Become a Sponsor today and allow more students reach their God-given potential!
Be inspired - read more stories of transformation in the lives of children!
Learn more about how we do "Sponsorship Differently"!
We can all do something, we've all been called to a task. Watch the video "How Do You Transform a Life?" to be inspired about how each of us fit in God's plan.
---
| | |
| --- | --- |
| LIMITED TIME OFFER: Sign up between Tuesday, December 3 and Tuesday, December 17 and we will send you Keith and Kristyn Getty's "Joy: An Irish Christmas" CD as our gift to you! | |
---
See the POTENTIAL.
SPONSOR today!