At first glance, you may think the photo for this blog post is misplaced. Shouldn't this be posted on AutoTrader instead or something?
No! Instead, this photo is an excellent representation of the Lord's provision, even in the seemingly boring details like a vehicle!
The truth is, this vehicle is a signifcant part of our ministry here at EduDeo. Its primary use is to provide transportation for HANDS Teams who travel to Nicaragua on short-term mission trips, picking them up from the airport, bringing them to the worksite, touring the surrounding area, etc.
EduDeo didn't always have a van for this purpose. Initially, whenever a HANDS Team would go to Nicaragua, we would have to rent a vehicle specifically for this purpose. This grew to be a costly and inconvenient task. However, in 2007, a HANDS Team from the Niagara area stepped forward with a desire to play a further role in the ministry past their HANDS Team experience.
Here is an excerpt from an article in our December 2007 Newsletter, written by Aleida Zeyl-Spoelstra:
After returning home from a HANDS team trip to Nicaragua, I was showing a presentation to a friend and commented on the on-going needs of the Christian community in Managua, Nicaragua. My friend was deeply moved, and donated a gift in honour of her son, who had died at the age of 34 earlier in the year and who would have wanted some of his estate to go to disadvantaged children.

I shared this story with my team, and we too were challenged to see how we could play a further role in the lives of people in Nicaragua. We learned that our help was needed for two projects. The first project was provision for continuing education of Nicaraguan school teachers. The second need was a van to transport the HANDS team volunteers to avoid renting a van each time. God's Spirit touched people in the most unusual and unique ways, and enough money was collected to cover the costs of both projects!
Once EduDeo was able to purchase the van, a fund was set up as part of HANDS Admin fees to cover the maintenance and eventual replacement cost of the vehicle. In 2012, it finally happened - the van was getting old, had many, many kilometers on it and needed to be replaced.
We looked into our "van fund" and low and behold there ended up being pretty much the exact amount of funds needed once we sold the old van to purchase a new one! Praise the LORD!
The van truly has been a blessing, both to our HANDS Teams and to our partners in Nicaragua. Lesther (pictured below with the new van) translates for our teams and is the primary van driver. He is often hired with the van when it is rented to other organizations through the Nehemiah Center when EduDeo isn't using it! This means that having a good van creates employment for him when HANDS teams aren't there. Over the past year, his success as a host for HANDS teams have put his services in demand and increased the use of the vehicle with other Nehemiah Center organizations!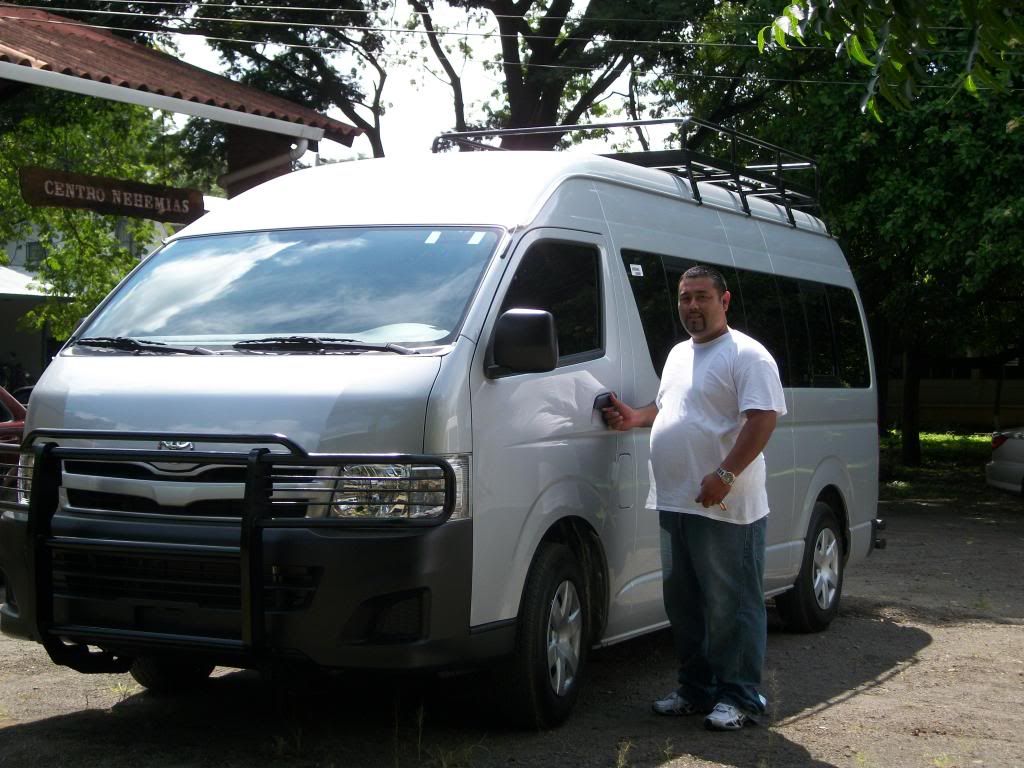 God is spreading the success of this project in Nicaragua to other countries! Our partner in the Dominican Republic has heard about the way this van project operates and the Board of COCREF has given approval to purchase a van there as well.
All this to show the LORD's hand of provision, even in the seemingly small details of life. May you be encouraged not to doubt His leading in your life - you never know who He wants to bless because of your response to His call!
The Lord directs the steps of the godly.
He delights in every detail of their lives.
Though they stumble, they will never fall,
for the Lord holds them by the hand.
Psalm 37:23-24 (NIV)