As part of our current Sponsorship Campaign to recruit 50 new Sponsors by December 5th, we'll be sharing a series of posts that explore the world of development and what transformation REALLY looks like - past our own perceptions and misconceptions and into the lives of those who have been working for change around the world.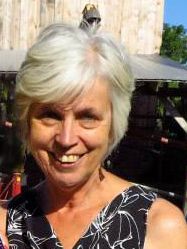 Today we'll be sharing a testimony from Katie Karsten, who went to Rwanda as a Micah House volunteer with International Teams in 2012. She shares the story of Maman Deborah who works among HIV/AIDS patients in Kigali, Rwanda. Her story highlights how each person is important in God's eyes!
"As our team members walk alongside newcomers in Canadian urban settings, we have the privilege to take time to hear their stories. A refrain from refugee claimants who come through Micah House include the words "support, care, assistance, together, beside, value, interest and welcome".
When we listen with our hearts, loving deeply and unconditionally, we truly serve the whole person as equal image of God.
Maman Deborah works in Kigali, Rwanda with that unconditionally loving mindset. She is the leader of an association for those with HIV/AIDS. She took training to help those with HIV/AIDS, believing that God had protected her so that she could be Esther amongst this marginalized population. It began in 2005 when she reached out to one person in her church. Then others in her church came and word got out into the community. They had told her in counseling that she should not cry with those she counsels but initially she cried and cried with those who reached out for her kindness and aid ... what else would one do in the midst of these wretched stories of rape, isolation, rejection and despair! Each person had an intimate, personal story to tell. Each person created by God cried out to be heard, and Maman offered unconditional love and care to all.
Each met with Maman Deborah alone … seeking help and hope! Then they started to meet together, supporting and caring for each other. Together they began to believe that they did have the right to live and to flourish! And so, as they shared their stories one day in a warehouse that offered little physical comfort and only enough light to see each other's profile, the same refrain was heard: "hope, acceptance, thanks, opportunities, together, care, life and gratefulness".
Oceans apart … different circumstances! We have a shared human need for community, acceptance, respect, dignity and support, and God gives us the privilege to offer all of this in His name in whatever continent He chooses to use us."
Everybody has a story. Hearing stories of how God works in others' lives reminds us that we all are more than a number! When we look past mass statistics and generalizations, we are given glimpses of God's hand at work in the details of each life.
In EduDeo's Sponsorship Program, you will be given the opportunity to learn about and pray for leaders, teachers and students in another country - impacting your own life as you learn about God at work in others through your support!
Become Part of the Equation - enroll as a Sponsor today!