As part of our current Sponsorship Campaign to recruit 50 new Sponsors by December 5th, we'll be doing a series of posts that explore the world of development and what transformation REALLY looks like - past our own perceptions and misconceptions and into the lives of those who have been working for change around the world.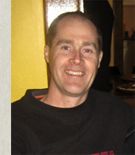 Today we'll be sharing a testimony from Scott Jones, who serves as the Executive Director of Micah House Refugee Settlement Services in Hamilton, ON. His story is quite simple but shares a profound truth about the importance of upholding the dignity of others instead of fostering a superior "God-complex" that we in the Western world so often fall victim to.
"A wonderful Hungarian family had come to stay with us, but after a time their application to receive Canada's protection was denied and they prepared for the return home. It was very important to them to find a way to thank Micah House for its effort and kindness. They decided that an authentic Hungarian meal was the way to go, so we gave them the ingredients they needed to prepare a feast.
They served up combinations of meats, eggs and jellies that I never would have considered. It opened my naïve eyes to the variety of gastronomic palettes represented at Micah House, and why some of the Canadian-style dishes we provide every day can seem unappealing.
But it also set the stage for a more profound lesson:
Within each person's journey, dignity must be upheld for all as equally valuable in God's plan - in the case of rejected refugee claimants, to leave Canada with their heads held high.
There are benefits to living in Canada which give refugees reason to try to settle here. There is a harsh reality in that. Many come from countries where they suffer much hardship, and also do not have the opportunities for their families that they would like. And many who wish this safety and these opportunities for their families are not granted the right to settle here, so they must head back home again. They must be given the opportunity to travel that road back with dignity, also as they say goodbye.
Since then, we have worked hard to recognize the unique circumstances of everyone being sent home and how we can celebrate the short time that God put us altogether under the same roof."
It is beautiful when people from different cultures and backgrounds can come together as brothers and sisters in the body of Christ to share the different gifts we all have. What a good reminder that "the people on the other side of the world", whether we will meet them here or there, or perhaps never at all, aren't just a statistic or mass population, but that they each have their own story, their own gifts to share.
That's why our theme this year is More Than a Number - reminding us that each person is created in the image of God. Our Sponsorship Program helps us focus on this truth by sharing stories of teachers, students and their families who are impacted as we support our partner's efforts to promote quality, Christ-centred education in their communities.
Become Part of the Equation - enroll as a Sponsor today!